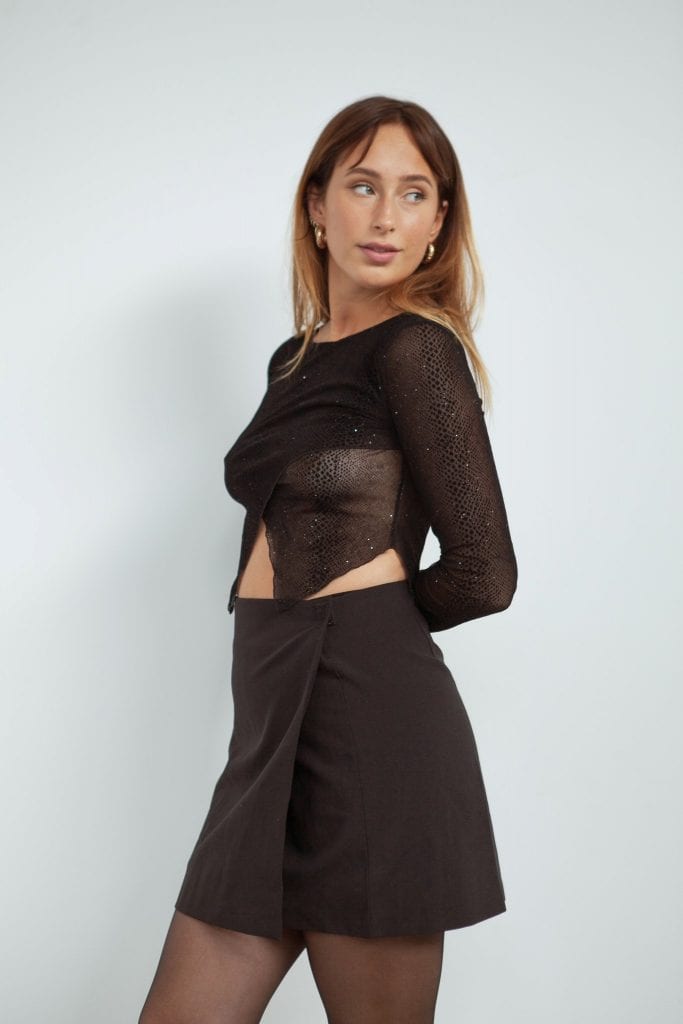 We had the greatest pleasure to stumble upon one of the greatest account on instagram called @palmerbracevintage. Palmerbrace Vintage is a selected vintage store online founded by Fanny Omne, a true fashion muse, digital creator and an absolute doll.

"I handpick every piece of clothing that is sold on my website. I wouldn't sell what I wouldn't wear! I freshen the piece up, sometimes I make adjustments to make it fit better, sometimes I don't. I work hard on trying to keep the prices fair. I wouldn't want to resell a T-shirt for 450kr, that's too much. I want vintage to be for everybody, not just rich people who are trying to look poor. " she says.

Lucky for us at Swedish Eco, we were able to get an interview with Fanny.
Who is Fanny Omne, except for the fashionista/ genius behind Palmerbrace Vintage?
I guess that other people usually label me as "Funny", and that's kinda my identifier to other people, which I am completely fine with. To myself, and to my close ones, I believe I'm a very introvert, thinking, and understated person. If I don't get my solitude I DIE on the inside. But as the true Gemini that I am, I'm in constant change. One day I'm the most outgoing, annoyingly happy person ever, and the next day I'm a quite little blob walking around my apartment all alone filled with anxiety. Basically, I'm a bit of a rollercoaster. I'm one of those super annoying people that has to have a purpose for EVERYTHING I do, otherwise I just can't do it. That's both a selfish trait of mine as well as it is a good quality to have once you actually feel like you have a purpose.
I live for creativity, especially when It comes to music, photography, fashion and movies. If I don't have a creative outlet I very quickly begin to feel anxiety and boredom. ??‍♀️

Who are the customers?
I have customers from all around the world, but Scandinavia, and Sweden, is of course number one. It's 90% girls from the age of 15 to 30 that shop from me, then there's about 10% boys.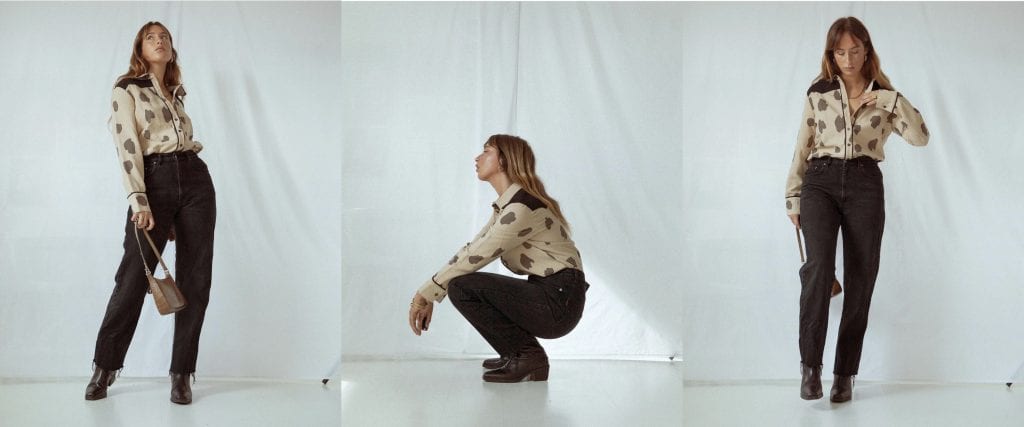 The second hand trend is now trending all over the world, did you know this trend would bloom when you started Palmerbrace Vintage and how did you come up with this amazing idea?
I definitely sensed it coming, yes.
I actually got the idea standing in a huge unknown flea market in Bali, in a town called Tabanan about 1,5 years ago. Walking through, looking at all these amazing pieces that NOBODY knew about, I simply thought to myself "Damn, I should buy from places like this and re-sell it?" And as soon as I got home I did! I Started searching the second hand store for gems, set up the website, and voila, my company was started.

From what we've seen, the garments are sold out very fast, what are your tips for the customers?
I know. I'ts actually pretty crazy. My reports show that 70% of the garments are sold within 3,5 minutes. You have to be REAL quick. My tip is to be logged on at EXACTLY 18.00 (when I have a drop), and to just be as quick with your card-number as possible to be honest! But be logged on at 18.00 SHARP, that's the most important thing! ⭐️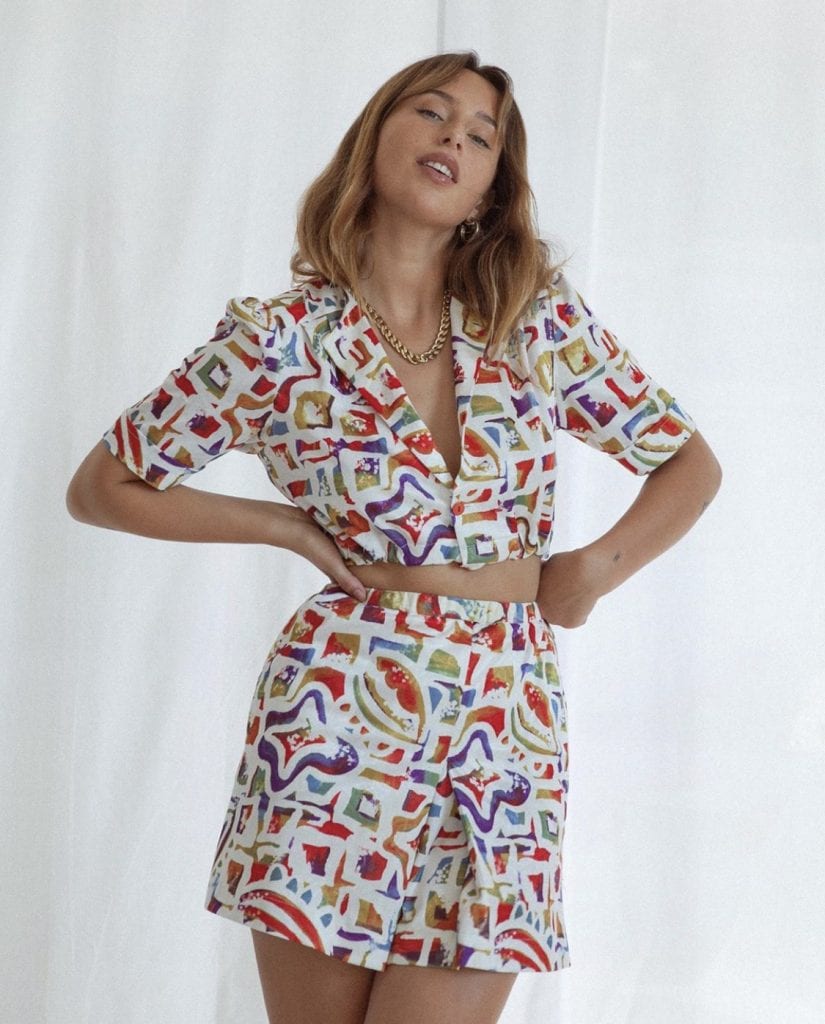 You dropped a fabulous collection that's re-made by you a while back. Can you tell us about the collection. And is it hard to let go of your projects?
Yeah so, you know these horrible old 80´s clothes you always see on the "Retro" section in the second hand stores? I've always loved funky prints and colors, I just wished they had some good fits as well. So I decided to make good fits of it! Basically, I re-make old vintage un-wearable clothes into something wearable and fun!
It's definitely hard. But In comparison, it's a quite small sacrifice to let go of a lovely piece of clothing to be able to work with what I love.
How would you describe your style?
My style isn't very special to be honest. I love casual outfits, the most important thing to me is a good fit. A great pair of jeans and a white top with golden accessories works just fine for me. I love being creative when it comes to styling the Palmerbrace Vintage shoots tho.
What does fashion mean to you?
It's definitely a creative outlet for me, so in that matter Fashion means a lot. Seeing it from another perspective tho, fashion is just visually pleasing for me, which is great because I looove beautiful things but, it doesn't go deeper down that that. It's the whole machinery behind my brand that gives "fashion" depth.
What's your favorite garment at the moment?
A good pair of suit pants with a small flare is so good to fit with square shaped shirts and jackets. LOVE that look. ?❣️

What's your best advice for styling?
To never put yourself in a category when it comes to style. Not being like "Oh I love that piece, but it's not my style, so I can't wear it.." STOP LIMITING YOURSELF FOR THE SAKE OF WHAT CATEGORY YOU HAVE BEEN PUT INTO BY SOCIETY! Dare to try something new. That applies to life in general. ✌?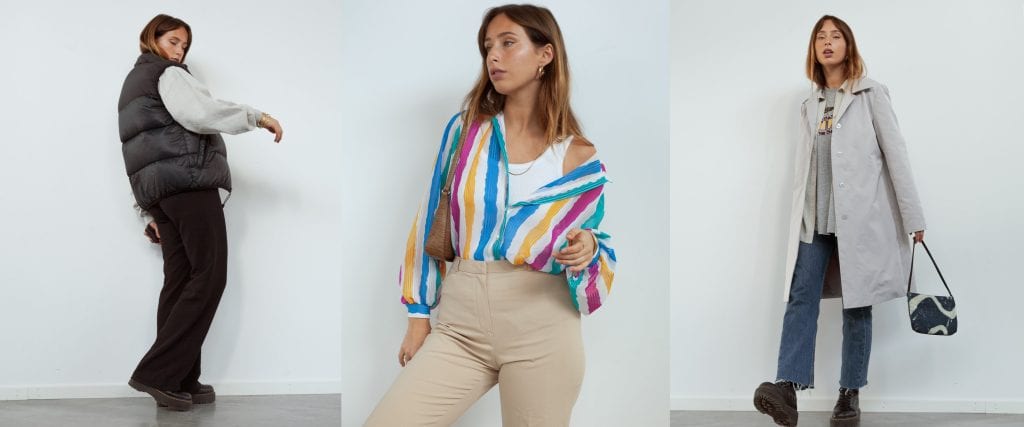 Last but not least: How would you style a set of Swedish Eco underwear?
I know EXACTLY how I would style them, don't even have to think about it. I'd take the Black Bralette and Black Bikini Briefs, wear a pair of baggy white jeans, and a white oversized cut off old jeans jacket and just wear the Bralette as a top. Pair it with some cool jewelry and maybe a bucket hat! SUCH A LOOK! ?

Here are the links
to the webshop: https://palmerbracevintage.com/
to Palmerbrace Vintage's instagram: https://www.instagram.com/palmerbracevintage/